2011 Scott Voltage FR30 Upgraded: Lyriks, XT Brakes etc
When I 1st discovered Voltages, I saw a lot of potential: a frame with sorted geometry and huge versatility that is DH capable and Enduro light, with a nice low top tube for tricks and adjustable chainstay length to get your prefered characteristics (with different dropouts)... All told, I find it a bit weird that the vast majority are built with dual crowns, as it kinda negates the adjustable travel.
So, I went about putting together a swiss army bike... 115-160mm Travel on the Front and 135 or 150mm on the Rear, with poppy and playful suspension, that still has plenty in reserve for big hits~as built, this is basically 4 bikes in one with each configuration giving different traits (160F/150R 160F/135R 135F/135R 115F/135R)... Of course, the U turn on the forks means you can tweak it to find the sweet spot. On top of that, with different shocks, rear travel can be between 110-180mm and you can even tweak the geometry (see: http://www.pinkbike.com/forum/listcomments/?threadid=81521&pagenum=1)
I've owned a lot of bikes in my time and there is no doubt this is one of the most fun... however, it's a bit too small for me being a Short~I've built up a Long and managed to get it under 31lbs without anything too exotic or weak~ this one is a bit over 35lbs as built, but swapping the tyres could easily save a couple of pounds.
Pretty much everything bar the Frame, Seatpost and Rims is upgraded:
Frame: 2011 Scott Voltage FR30
Fork: Lyrik U-Turn, Mission control Damping with High+Low Speed Compression adjust, Floodgate Mod for improved damping
Shock: Rockshox Monarch Air
Wheels: Alex FR32 on Scott Front Hub and Superstar Rear (12x135 with conversion axle)
Tyres: WTB Timberwolf Front, Maxxis Minion DHR Rear
Brakes: Shimano XT M785
Cranks: Truvativ Holzfeller (Top of the range, upgraded from Ruktion)
Pedals: Easton Flatboy
Chain Guide: E13 LG1
Derailleur: Shimano XT 9 Speed
Shifter: Shimano LX
Bars: Azonic Double Wall
Grips: ODI Troy Lee Lock on
Stem: Da Bomb
Saddle: Dartmoor Roots
Good points:
Fork just serviced with fresh oil in lowers and damper, Fresh damper seal
Frame Pivot bearings replaced recently
Rear Wheel Bearings replaced recently
Near New Bottom Bracket
Brand new headset bearings
Bad Points:
Usual scratches and cable rub on frame
Cosmetic wear and tear on components
Bit broken off lower chain guide, but still works fine
£725 ono
Happy to post a buyers cost, or welcome to come and check it out.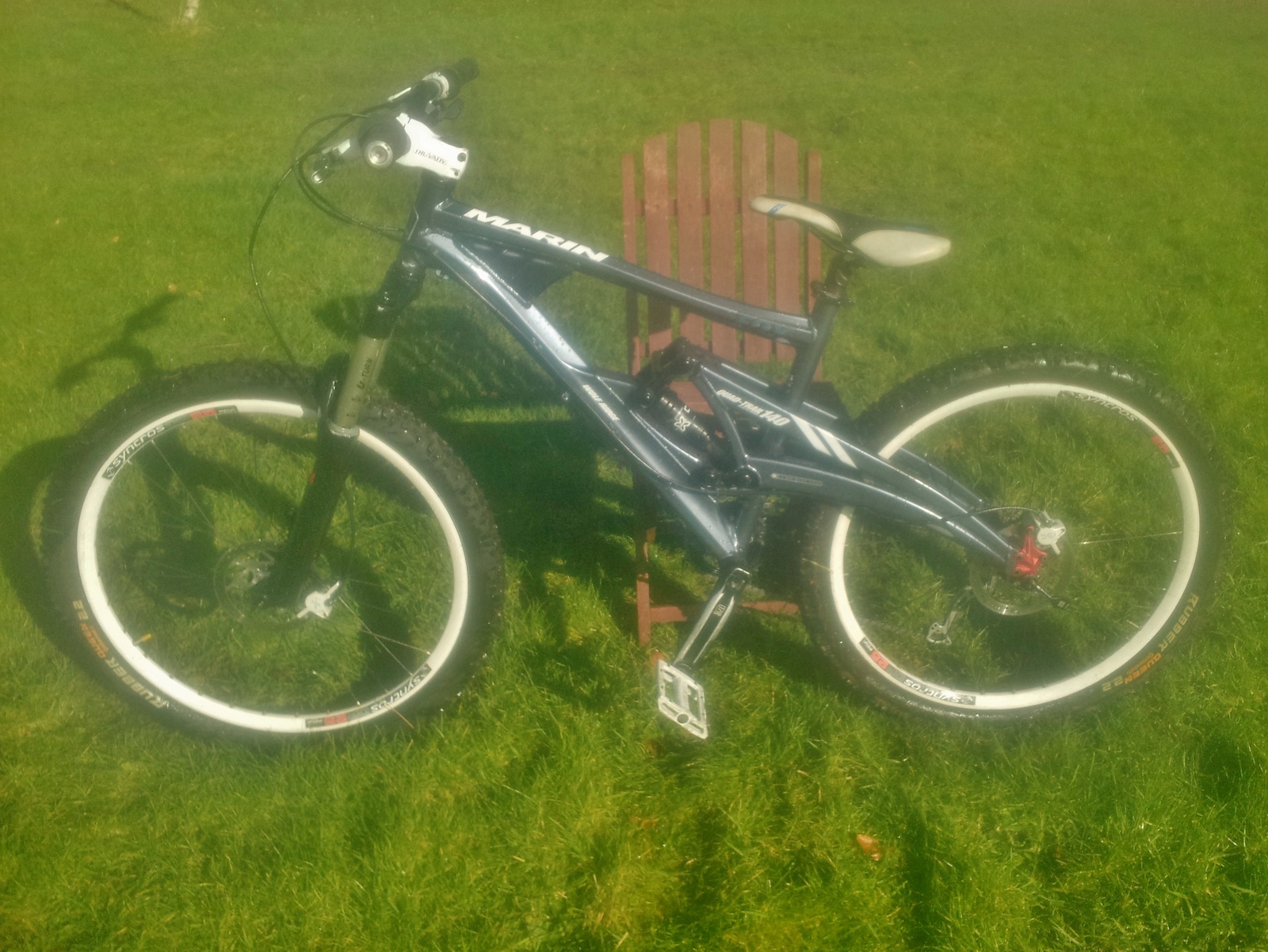 2008 Marin Wolf Ridge 140mm
By all accounts, this was a bike ahead of it's time...
Aggressive geometry which took a few years for other brands to catch up on, it still holds it's own against the current crop of enduro bikes.
Bolt Thru Axles both ends (20mm Front, 12mm Rear) mean the bike tracks through everything with precision and confidence...
Search around for reviews and most people are singing praises, with very little bad to say:
http://www.bikeradar.com/gear/category/bikes/mountain-bikes/product/review-marin-wolf-ridge-08-29047/
http://marineeimportedblogimages.s3.amazonaws.com/_images/2008/03/mtb_page_1_full.pdf
http://www.mtbr.com/cat/bikes/allmtn-full-suspension/marin/wolf-ridge-6-7/prd_436409_1547crx.aspx
Anyhow, more on this particular bike...
First up it has a few upgrades:
Brand new X Fusion Rear Shock with Lockout for climbs
E13 Narrow Wide Chainring
Burgtec Ride Wide Bars
Hope Bar Ends
Continental Rubber Queen Tyres F+R (Like new)
Rest of spec is pretty standard
Frame is good condition for year, with usual scratches and blemishes to paint and some cable rub.
Forks just serviced with new seals and fresh oil in the lowers and damper, though there is a scratch on the stanchion, which has been filled with nail polish and works fine...
U Turn Travel Adjust for Climbs
Original Rims running true front and rear.
Brakes work well, with plenty of life left in Pads
Drivetrain has some wear, but still perfectly serviceable with crisp and swift shifts.
£415
Can arrange courier if necessary
KMX Kart Adult Recumbent Trike
Adult KMX Kart, not a current model, but spent it's life in storage and hardly been used, hence almost immaculate.
It has disc brakes all round, 24 gears and is rated for on or off road use. Adjustable crank boom means it'll fit pretty much all adults, unless you're a midget or a giant (I'm 6ft 1 and there is still some adjustment for taller folk).
These things are great fun and built to take abuse.
Closest equivalent model is £1200 new.
£475 ono delivery to be negotiated... can deliver for fuel cost, or approx £40 with courier
jivehoneyjive2 (at) hotmail (dot) com if you want to arrange a viewing, or have any questions...