A SRAM photo story on riding in Cortina. Looks alright I suppose…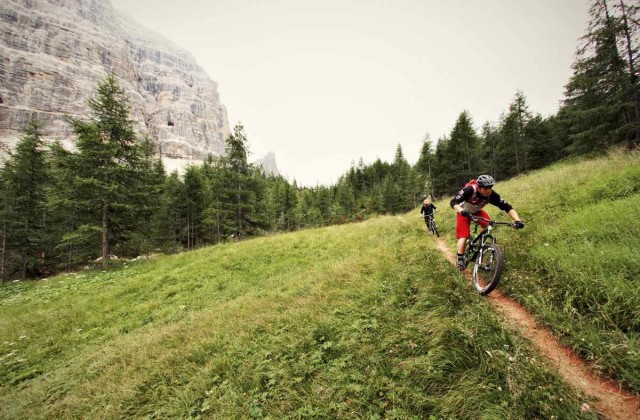 No matter where we are in the world, every time we ride our mountain bikes we feel the anticipation of a new story. Each ride brings new sensations dictated by weather, riding partners, bike performance, trail conditions, trail choice, intensity of the ride and this changes the way we feel. When we travel to a far-away place these elements are heightened and the adventures intensify.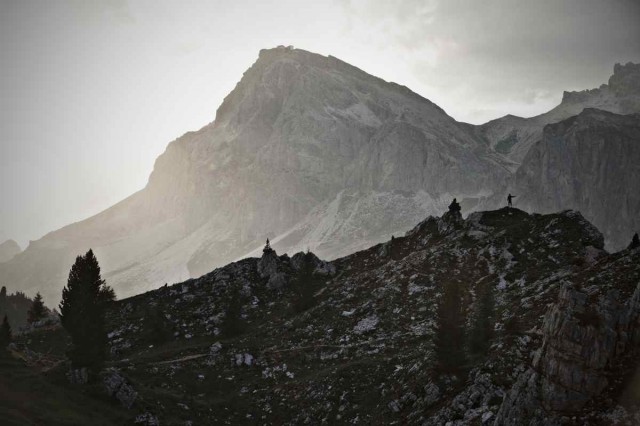 Our trip to the Dolomites was definitely no exception. Each day we'd head out from Cortina and venture high into the impressive limestone mountains that reflected light like nothing I'd seen before. The trails were rugged and rocky with some exploratory hike-a-biking and a lot of drifting. Many were built as part of the First World War, which added a powerful emotion to our rides. We also spent a night at the ridiculously perched Rifugio Nuvolau mountain hut, a spot that I'll never forget.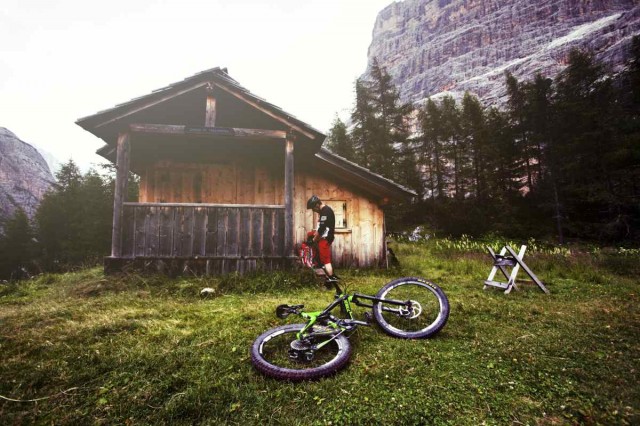 We started the long days and in some cases long-nights trekking trough the top of the Boot, breathing in Milan, soaking in Venice and then shooting up through the Prosecco region of Italy – to Cortina. Imagine travelling through one of the most beautiful countries in the world and then getting dropped off in Cortina; the word stunning is an understatement. Our goal was two fold – make our way up to one of the highest Refugio's in Italy and two – discover some perfect pieces of singletrack along the way. We managed both but not with out some bumps along the way and a few photos to tell the story.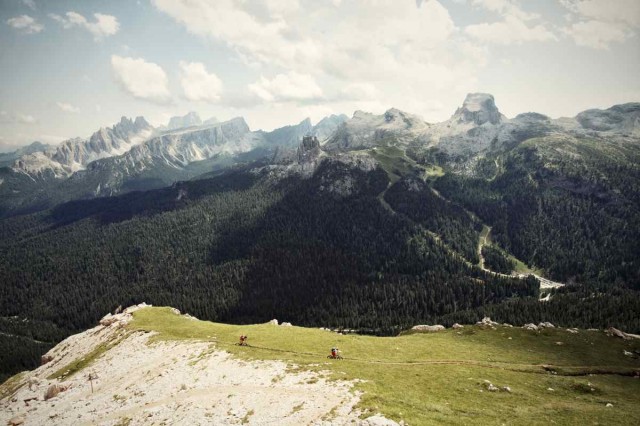 Italy has a way of eating and drinking that we can all get accustom to, and by fate we happened upon a monthly party where the Cortina locals graciously shared a little to much of the local beverage. The next day was taxing but we suffered through and managed to pull off a lift-assisted ride that hurt so good… With this leg we ended up at the pristine Nuvolau where we ate, drank and general figured the scene out. We poked our heads into the shooting galleries from WW1 and got a little lost in the trenches…literally.

With it's pristine roads, Cortina is best known for the Giro d'Italia. We chose to take this polished reputation and ride away from it with the newest of trail-ready bikes that you can do anything and go anywhere with. It seems like we only scratched the surface of this electric amphitheater. I guess we'll just have to go back and ride a little deeper into the mountains next time.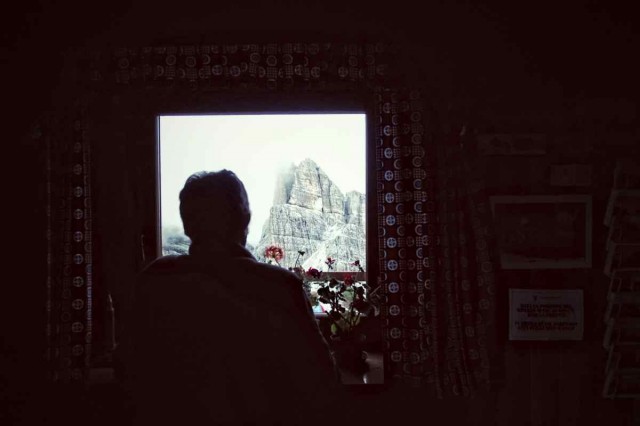 The true meaning of a picture window – Chris lets his mind race with all the thoughts of what can be done with what he sees. The views from The Refugio Nuvolau were nothing short of mind blowing. Its strategic position made it one of the most important points of view during the First World War.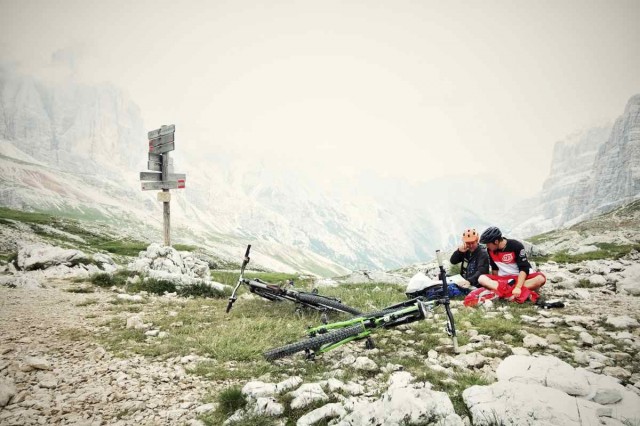 Quick stop at one of many junctions within the mass of trail networks in the Dolomites. The faded vista in the background goes by the name "The Forbidden" but rules are made to be broken…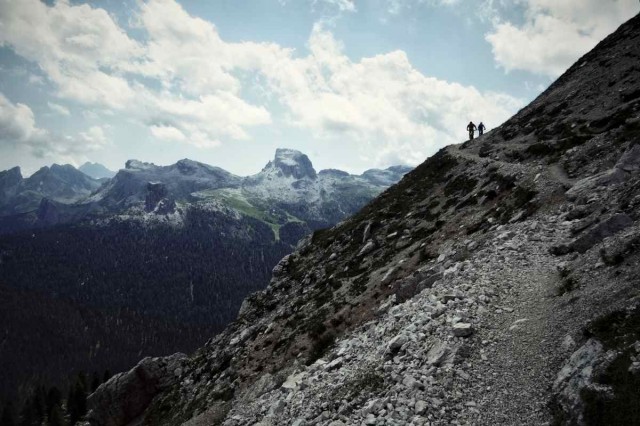 With every ridge offering more and more rideable terrain,there was no better reason to keep pedaling.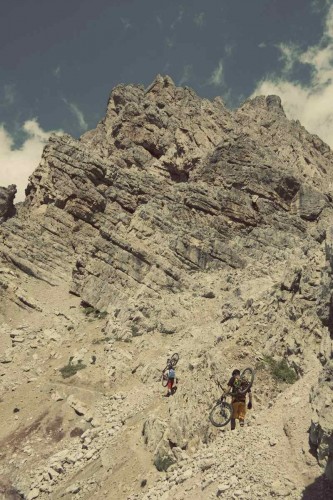 A few key moves stood between us and the alpine fruits. A true test, and a different kind of trackstand.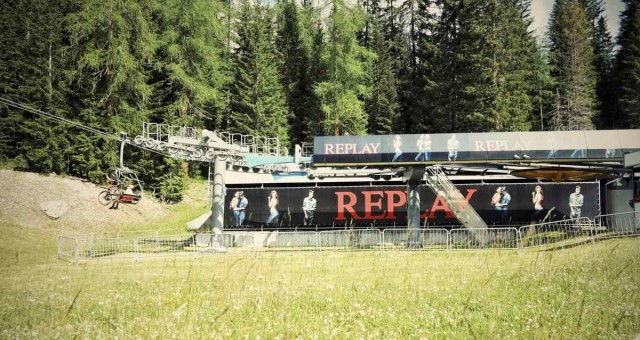 Juxtaposition at its finest. Bike on your lap and not a single person in line. We caught the 'lifty' off guard with our appearance.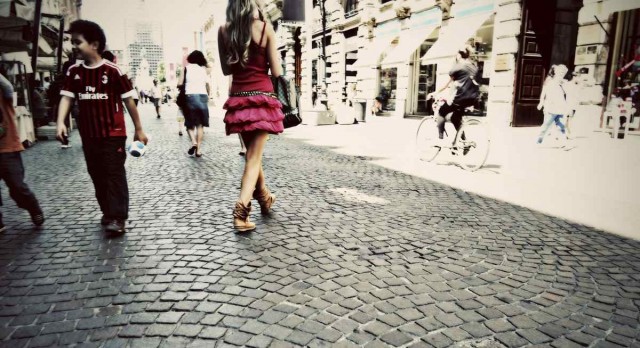 A quick stop in Milan on our way to the Passo Falzarego" and "Passo Giau" passages offered a great view as well. Saw a bit of culture too.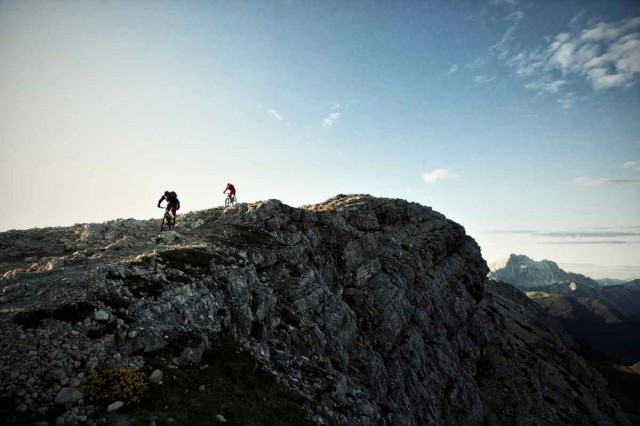 Have you ever had moments that make you wonder if you are Lucid? Morning light at 2600meters, Italian espresso moments before another ridge ride… real or not?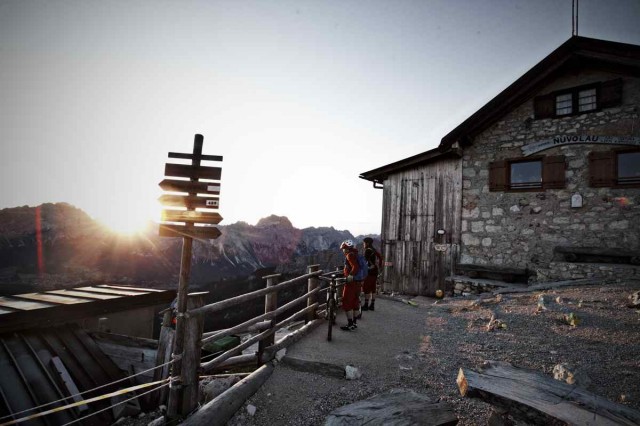 Refugio Nuvolau, Cortina d"Ampezzo, 2575m 5am and we wouldn't change a thing.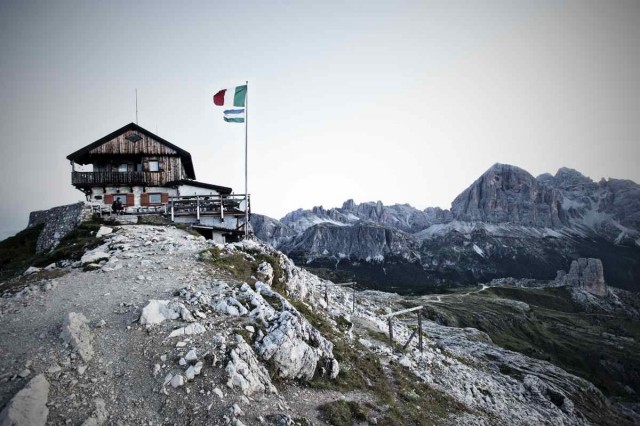 Nuvolau perched with a 360degree view of endless Terrain.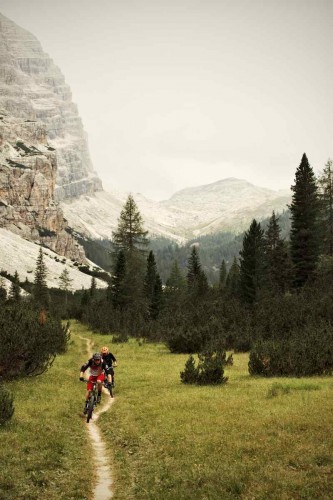 Forbidden singletrack feels so wrong.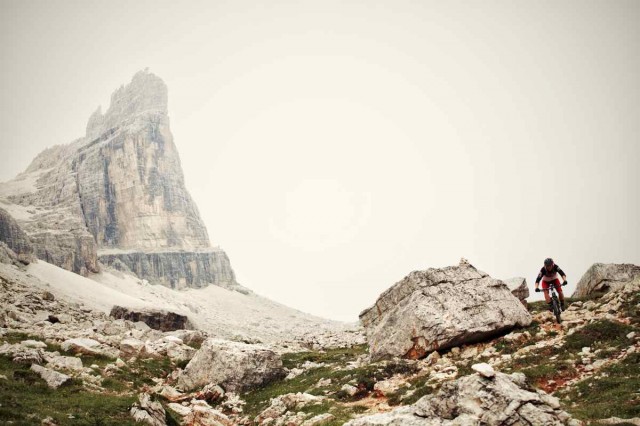 We were a small foot print in an alpine meadow like this. We could see the corner after the next for as far as our eyes would allow.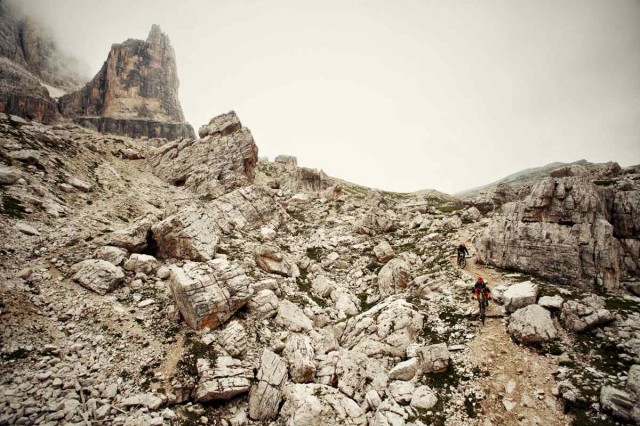 The trails were a broken down version of the boulders we paralleled. A diamond in the rough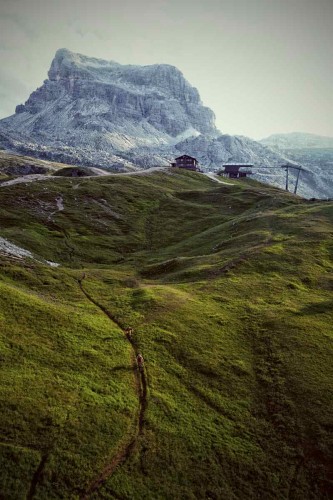 Another Lift, Espresso and some barren singletrack.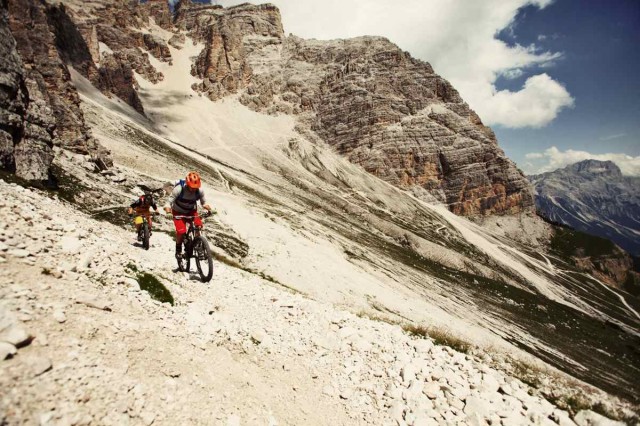 Like every adventure bike ride, some dues are inevitable. Uphilling dues with unreal views.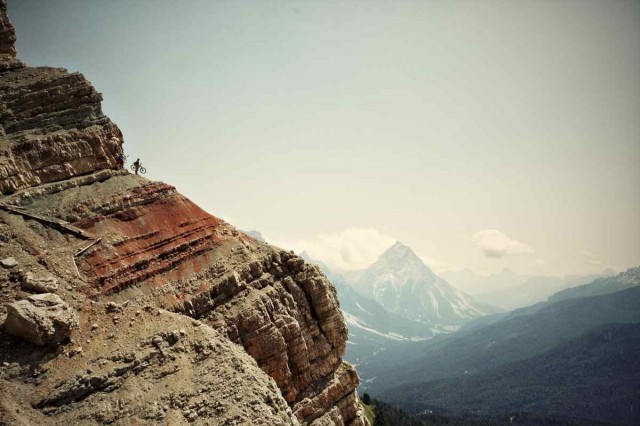 Exposed hike-a-bike. Not for the faint at heart. But worth every close call.
Chris Winter – Big Mountain adventure – www.ridebig.com
Tyler Morland – SRAM – www.sram.com
Photos: Adrian Marcoux – Instagram @amarcouxphotos
Video: Taylor Sage – https://vimeo.com/tsage