Joolze Dymond reports from round one of the ever-popular Gorrick winter series.
With most of the UK seemingly either underwater or finding out what it's really like inside an otter's pocket, it was a real revelation on Sunday to find the skies had stopped leaking just in time for the first of the much anticipated Merida Brass Monkeys enduros.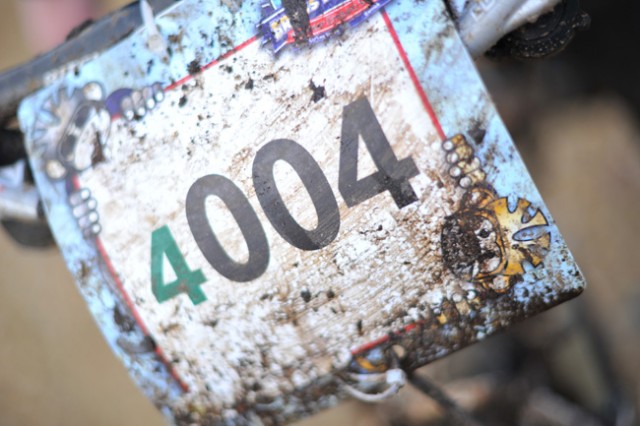 They came in their hundreds, regardless of the floods, the hottest ticket in town burning a hole in their pockets, eager to ride another awesome course that the Monkeys have become renowned for. Round one rewarded riders with a seven-mile loop that took you from the comfort of the event village, out into the delights of Caesars Camp. Probably the hardest of the three events in terms of wicked climbs, but what goes up must come down and the competitors were rewarded tenfold after the leg-crunching climbs with an awesome amount of descending. Conditions were amazing, considering the amount of water dumped on the area in the preceding days, with only a smidgen of muddiness to hamper the fast-flowing trails.
It was a day of immense ups and downs in more ways than one for many, as the flinty and gritty nature of the course took its toll. Lots of punctures and brake pad wear caused the outcome of the races to be pretty much last man (or woman) standing!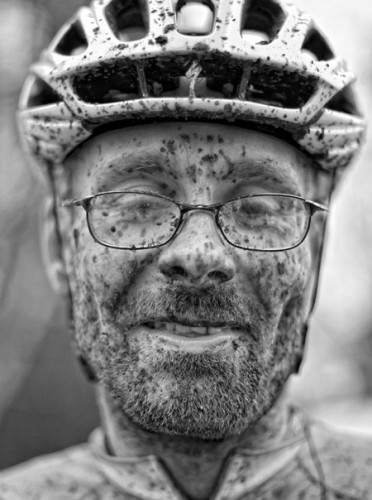 In the senior men's four-hour race Tim Dunford looked like a man on a mission as he streaked past, a good minute clear of his rivals on the opening lap. As the race progressed his lead was gradually worn down as were his brake pads and by his fifth lap he'd conceded his lead along with his gears to an incredible Al Fairbairn, whose last minute decision to ride singlespeed seemed to pay dividends as he ground out an impressive seven laps to take the win, with Marc Chamberlain and Tim Dunford a lap behind in 2nd and 3rd respectively.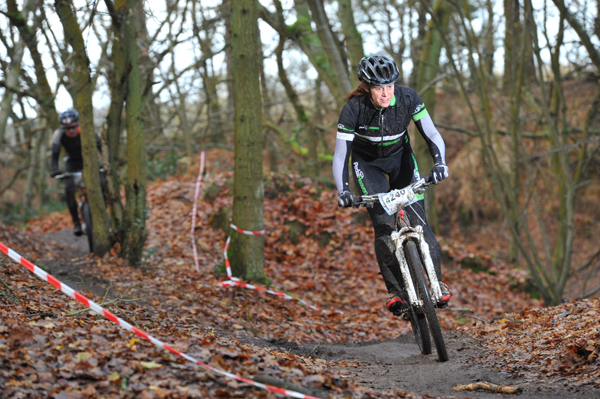 The women's race was a much closer affair and also beset with problems, with race leader and eventual winner Jo Munden struggling on the course with a lost cleat, with Rachel Fenton and Charlotte McDonald not giving her any respite as they all completed five laps. There was even closer racing in the vets race with enduro specialist Anthony White riding hard to keep off the advances of his rivals, finally taking the win with six laps under his belt just 98 seconds ahead of Nick Butler, while Matt Craner was just a further two minutes behind in 3rd. Claire Smith led the women's vets four-hour from the gun with only rival Viv Hazelton able to match her lap for lap. After five laps apiece Smith claimed a convincing victory with just over 11 minutes to spare.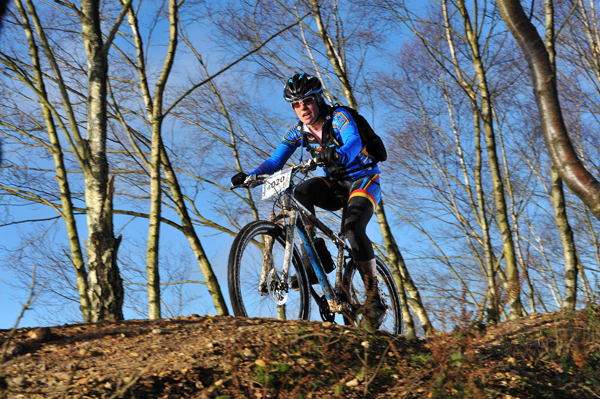 The fun riders had a chance to rub shoulders with the fast moving four-hour riders as they started their hour's race just ten minutes after the huge surge of the first race. Six riders managed to squeeze out two laps in the allotted time, with Stephen Dadswell proving to be the fastest man having fun.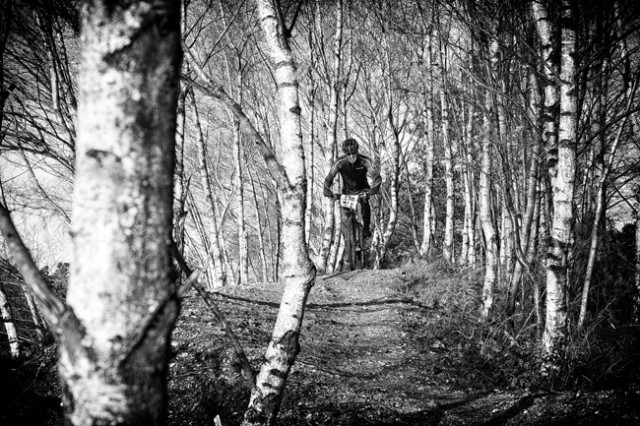 As midday approached the lovely though chilly blue skies started to cloud over, threatening to dampen the two-hour race start. With just a small reminder of the deluge experienced by many elsewhere the race got underway, the course now awash with a huge influx of fresh legs.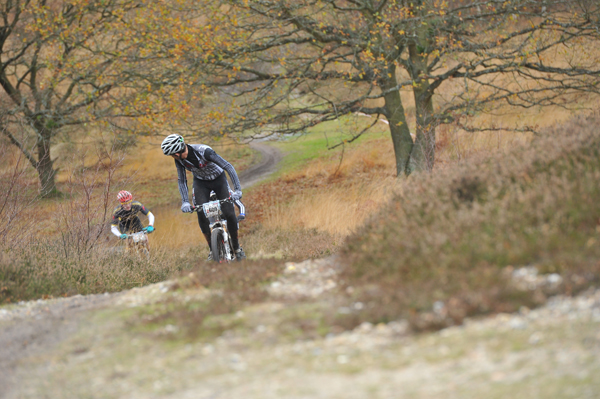 George Budd led the charge in the men's race, with Isaac Pucci and Jason Bouttell tucked onto his wheel. The three-man train made short work of the course for two laps, but by lap three Bouttell had lost contact with Budd & Pucci and as lap four unfolded Budd was left in control of the race with Pucci conceding his fourth lap to a bent rear mech, leaving Budd to take the win. Bouttell snatched 2nd and Pucci did just enough to cling onto 3rd. In the junior race Sam Stean took easy control of his race carving out an impressive four minute lead on the first of his four laps, finishing his race one lap ahead of nearest rival Will Taylor with a time that would have seen him grab 2nd spot in the senior race, while Laura Sampson carved out three laps in the women's two-hour race to take a convincing win over 2nd-placed Rachael Gurney.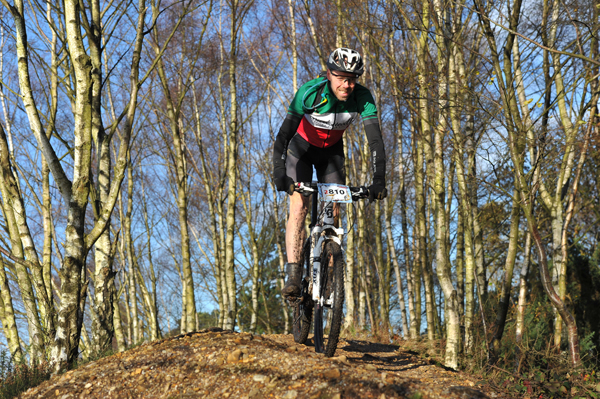 Meanwhile in the vet's two-hour race the competition was fierce, with just 56 seconds separating the top four riders. Dean Morgan got the holeshot, wrapping up his first lap with a 90-second advantage. However he soon found himself grounded as a puncture took its toll, bringing Dave Larkin, Roki Read and Nigel Huckson all back into the frame. As the battle for the win unfolded, it was Dave Larkin who took the honours over the three-lap scrap, with Morgan relegated to 2nd just 16 seconds adrift and successfully fending off Roki Read in 3rd by just two seconds. Closer racing could be found in the women's vets two-hour with Anita Buxton and Lydia Gould trading blows over their three-lap blast. Despite a strong second lap for Gould, it was Buxton who came out victorious taking the win with just over a two-minute advantage.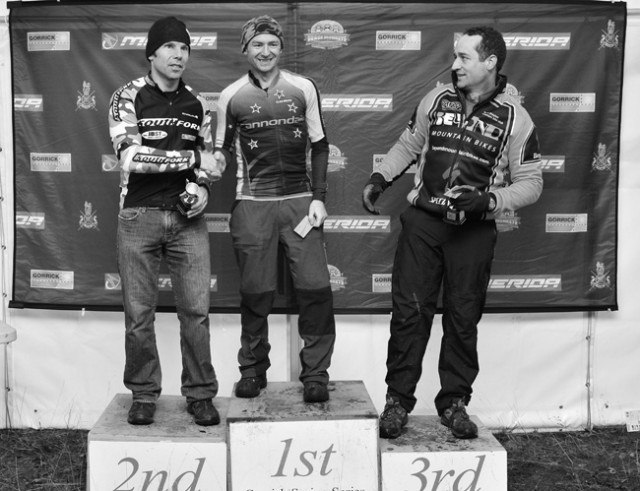 Thanks to the event's generous sponsors, namely Merida, Mulebar, Nuflex, Repack, Sram, Nomad & Four4th lights, many riders who came to cheer on those who took their places on the podium were well rewarded with impromptu prizes!
Entries for round two, aptly named The Christmas Cracker which takes place on the 16th December, are now open. Don't leave it too late to enter as this event fills up fast!!
For more info including full results please visit:
gorrick.com
For images of the event visit:
joolzedymond.com